The Marostica Game of Human Chess presented by Grappenhall (Junior) Chess Club
Saturday April 12th 2003 in Golden Square, Warrington. 14:00 until 16:00
Click here to view photographs of the event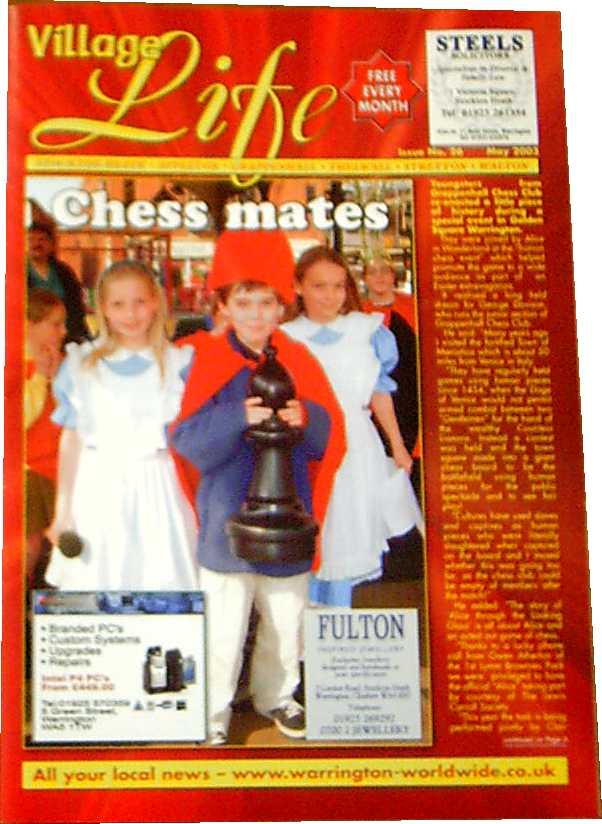 In March we were approached by Pam Cooper of KCC attractions on behalf of Golden Square Management (GSM) to consider our children participating with a Giant Chess set in Golden Square as part of the 'Easter Eggstravaganza' which lasts 2 weeks.  The answer of course was "Yes" & I was able to suggest an improvement invoking a long held ambition of mine & a golden (square) chance to realise it!
This was to perform a human chess game in the old market place under the roofed part, using primarily Grappenhall chess club children supported by family members & close friends. 
Many years ago I visited the fortified Town of Marostica which is about 50 miles from Venice in Italy.  They have regularly held games using human pieces here since 1454 when the Doge of Venice would not permit armed combat between two 'Gentlemen' for the hand of the wealthy Countess Lionora, so a contest was held & the town square made into a giant chess board to be the battlefield using human pieces for the public spectacle & to see fair play!
Cultures have used slaves & captives as human pieces who were literally slaughtered when captured on the board & I mused whether this was going too far as the chess club could be empty of members after the match & we only had 10 million pounds of public liability cover on the day!
Our first & only Management meeting was held on March 24th & it was clear that 'GSM' were enthusiastic & behind the experiment.  The story of 'Alice through the looking Glass' is all about Alice & an acted out game of chess.  There was already to be Actresses role playing 'Alice' the 'Red Queen' & other characters throughout the fortnight.  We even discussed the possibility of having the 'actual Welsh Alice' compete against 'actual Daresbury Alice' on St George's Day!  With so much to arrange in a short time this did not happen this year.
The purpose of Grappenhall Junior Chess Club's involvement in staging this Human Chess event was for the participating children and spectators to have an enjoyable and memorable afternoon through (and hopefully whilst promoting) the medium of Chess.  We were grateful to have GSM support with staging the event, and were delighted that they provided such a magnificent & appropriate setting and during the Easter Festival.
Thanks to a lucky phone call from Gwen Atherton of the 1st Lymm Brownies Pack we were also privileged to have The official 'Alice' taking part by Courtesy of The Lewis Carroll Society.  This year the task is performed jointly by Clair Sinker & Zoe Isherwood both of Broomfields CP school Appleton, which has a tradition for producing County Chess playing children who attend Grappenhall Chess Club!  We invited both Alices at short notice & I devised specially scripted games where in the first session they were both active chess pieces with essential roles & The Red Queen & actress Alice called out the moves.  In the second session the two actual 'Alices' read out the moves of scripted games where they played doubles against the actresses (and not surprisingly real Alices won!).  There were no rehearsals or practices & the scripts & full costumes were first seen immediately before play.  Yet despite this it worked brilliantly!  Many possible problems did not arise due to adult help by Chris, Carole, Denzil, Alan, Bryden & GSM Centre manager Andrew. The conduct of the children was exemplary.  We had some new children replacements for the second game such that in all over 50 children actually took part when you include the 'chess piece body removers' after a had been taken. 
Arrangements:
Children were registered with Chris' Davison & Carole Waring in GSM Centre.  The first Chess game started at 14.00 after children had changed into their allocated costumes & had been led out into the roped off arena.  There was special staging erected around the painted chess board & a triple PA system for the players with George Davison providing coaching comment using a demonstration board which mirrored the game in progress.  They were escorted back to the Management Centre for a break at 15.10.which lasted until 15:30.  Chess continued until 16:00 when the children were collected & given a small bag of Thornton eggs kindly supplied by 'GSM'.
Also for the whole "Festival Fortnight" there will be a giant chess set located inside the Mall, near to BHS.
Children & adults are encouraged to use this set without any charge and without necessarily having to book it. To ensure the use of the board you can however reserve the set by phoning Carol Prigmore at the Management Centre on: 01925 653505, and otherwise a blackboard system may be used by Management staff for times where there is a high demand.
There is the strong possibility of the performance being repeated next year, by which time I MAY have recovered from many many recent sleepless nights preparing scripts & worrying about potential pitfalls!
I currently feel very positive that our aims were surpassed on the day!  Best wishes go to all involved.
George Davison, Grappenhall (Junior) Chess Club.