Staffordshire University
Leek Road Campus, Stoke-on-trent
Staffordshire University is about 15 minutes from Junction 16 of the M6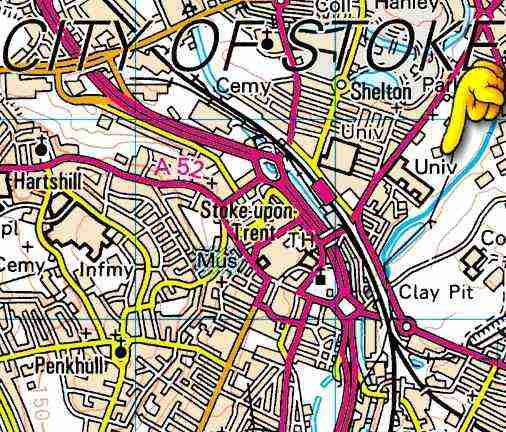 There are 2 recommended routes into the Leek Road Campus. Both begin as follows....
Leave M6 at Junction 16. Take the A 500 dual carriageway toward Stoke on Trent. Stay on this road, ignore any town centre signs. Continue on to a large roundabout....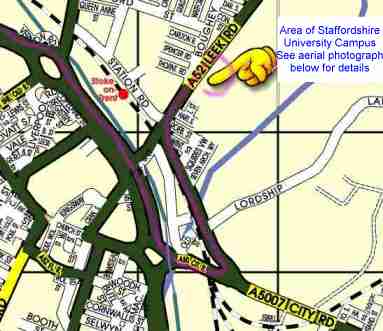 Route 1 - the simplest route....
Go straight across first large roundabout and continue on a short distance to second roundabout. Turn left onto the A52 following the signs to Ashbourne, the road goes under a railway bridge and on to another small roundabout, turn left again onto Leek Road. Follow this main road which bends to the right and keep in the right hand lane across a set of traffic lights following Leek Road (A52).
Route 2 - the shorter route....
Turn left at the first roundabout towards Stoke and pass under the railway bridge. You are aiming to pass in front of the Railway Station (see map) but the first right is no right turn so you need to continue on to the next right turning into Queen Anne Street. Turn right at the end onto College Road and then Left onto Station Road. After passing the Railway Station turn left onto Leek Road (A52).
Both routes meet and continue here....
....continue along Leek Road. After the pelican crossing you will see the University campus on the right hand side, take the right hand filter at the next set of traffic lights onto the Campus and follow the road which loops back towards the main buildings. Park in the large Car Park on the right
. The Team Rooms are usually upstairs in the Large Brindley Building 100 meters further along the road and the main entrance has double doors facing this road and about half way down.
Aerial Photograph of Campus Area

This aerial photograph shows the campus, if you are following the directions above you will approach from the bottom of the map to the first set of traffic lights and continue up Leek road entering the campus at the top right and then following the road back down the photograph to the parking area. The entrance to the Brindley Building where most team rooms can normally be found is about half way down in the area of the arrow shown.