NYCA U14 Team Competition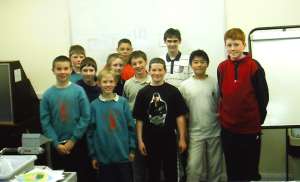 Cheshire & N. Wales 1st Team (Main Team)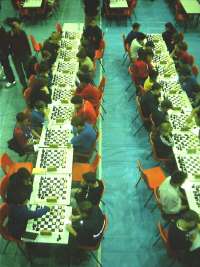 The 1st team end of the hall.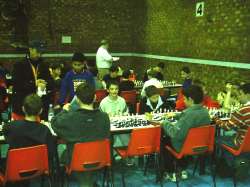 Martin sits down without an opponent, for now .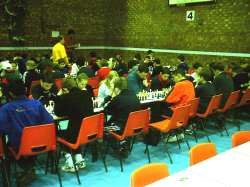 Alex is the boy in the orange top. He carefully considers his next move. Just to the right of him in the picture in the gray top is Martin, can you spot him?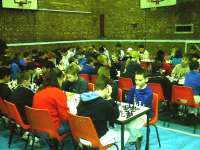 The B and C team's end of the hall.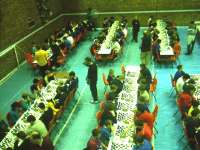 The players fight it out for their team in the main section, their team managers keenly take notes on the games they see.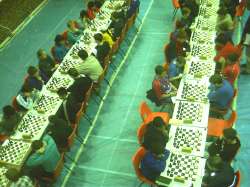 The balcony above the sports hall in Staffordshire is a useful vantage point, you can see everything that goes on. This end of the hall is where the higher boards (1-3) of the main teams play.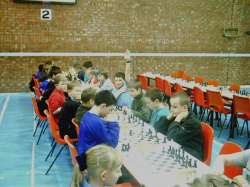 Here you can clearly see Peter (11 of Team 2), with his hand in the air. Towards the distant end of the table you can just see David (12 of Team 2).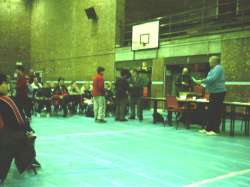 Here Team 3 come up to collect their winners trophy. We won't upset them by mentioning there were only two teams in the group.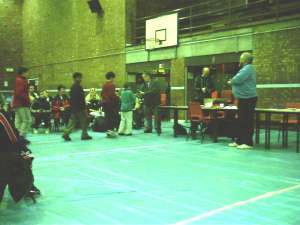 Here the entire team come to collect their trophies. George, who is actually 9 years old, is at the front. Behind George is Benjamin(11). Behind him Nym (12) but unfortunately we cannot recognise the boy in the red jumper behind Nym. If you recognise him please send a message through the website guestbook explaining who he is.
All photographs kindly supplied by Martin Wheller